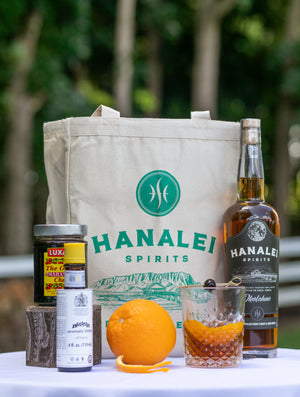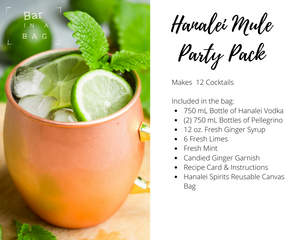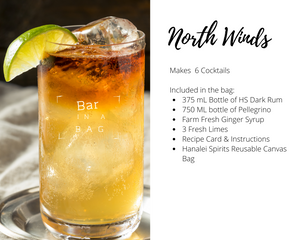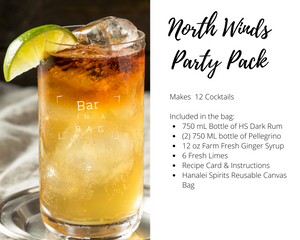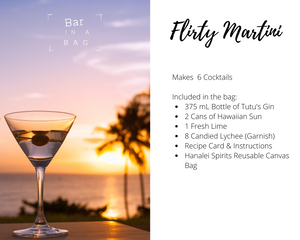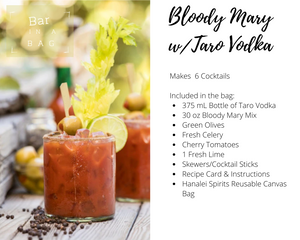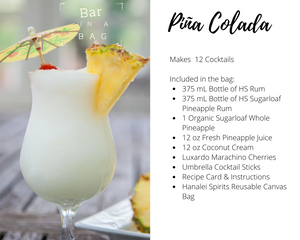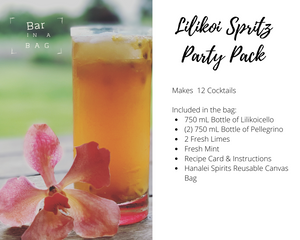 GATHERED FROM THE LAND - CRAFTED BY HAND
Next Business Day Delivery. Or shoot us an email for special requests.
NOT AVAILABLE TO SHIP DUE TO DUE TO FRESH INGREDIENTS
Enjoy a refreshing cocktail experience delivered right to your door for you and a few friends. Each bar in a bag will come in our Hanalei Spirits reusable canvas bag and include everything you need to create the perfect island cocktail. A selection of vibrant farm-fresh local ingredients, our specialty craft spirits, and a one of a kind Hanalei Spirits recipe, that is uniquely tailored to express the beautiful bounty of Kaua'i. 
Each week we will deliver the weekly special bar in bag directly to your door. Order ahead of time during the dates above to ensure you get your weekly delivery on time. Kick back, relax, and enjoy a Hanalei Spirits getaway. From our O'hana to yours, Cheers!
An individual 21 or older must be present at the address given to sign and receive the package. 
History of Palaka:
Each Bar in a Bag will be uniquely wrapped in palaka to honor the old with the new. Palaka is the reflection of Hawaii's past from its first immigrants that came to work on the sugarcane plantations and pineapple fields. Palaka fabrics were much thicker woven fabric brought by the first European settlers. This plaid fabric was worn on the fields to protect workers from the sun and spiky pineapple leaves. From 1910-1940 this plaid twill fabric became the identity of Hawaii worn by cowboys, "paniolos" in Hawaiian, workers, surfers and all the in between. Regardless of class, culture and race, palaka dressed every person,  and told the rest of the world, "I am Hawaii."
What's available this week:
Hanalei Mule: Makes 6 cocktails

Hanalei Mule Party Pack: Makes 12 cocktails
Old Fashioned Okolehao: Makes 12 cocktails
Lilikoi Spritz: Makes 6 cocktails
Bloody Mary w/Taro Vodka: Makes 6 cocktails
Hanalei Green Flash: Makes 4 cocktails
Flirty Martini: Makes 6 cocktails
North Winds: Makes 6 cocktails
North Winds Party Pack: Makes 12 cocktails
Suggested bar additions: