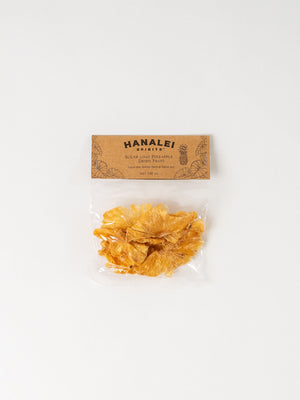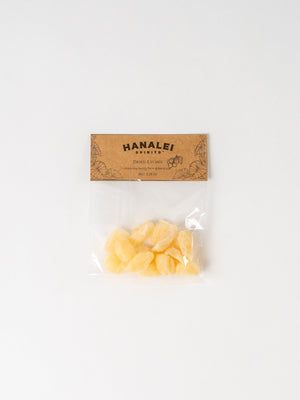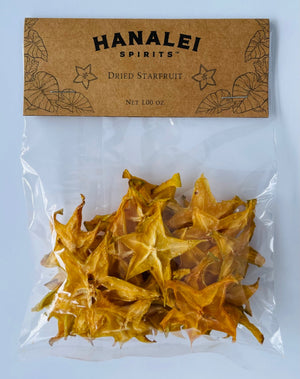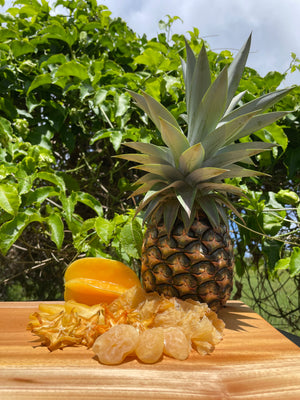 Enjoy some of Kauai's abundance all year long even when not in season.  Dried fruit makes a delicious healthy snack, unique cocktail garnish or a great addition to any charcuterie board! For a fresh taste, keep products refrigerated in an airtight sealed container.
Dried Starfruit 1.0oz Bag 
Grown, washed, sliced, deseeded and dehydrated by hand, right here on the farm.  Each fruit is picked at its peek of sweetness. 
Dried Sugarloaf Pineapple 1.50oz Bag

Premium pieces of Sugarloaf Pineapple that have been sliced, pressed and dehydrated.  Natures Perfection in a bag. Naturally high in sugar and low in acid.  We can't take much credit for its final product as it is one of natures treasures.
Dried Lychee 2.25oz Bag
This bright red fruit that hangs in bunches from the tallest part of the trees during the summer months, is so worth the work to find them.  It is no different and just as amazing in dried form. 
Candied Ginger 2.25oz Bag
Sliced and crystalized ginger hits the spot. Its' our favorite topping on a Hanalei Mule Cocktail or to throw in your bag before you tour down the Napali Coast to ward off seasickness.