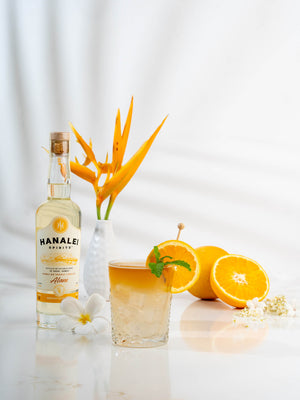 Hanalei Alani Orange Liqueur
GATHERED FROM THE LAND CRAFTED BY HAND
Get in the island spirit with our Hawaiian version of a traditional orange curaçao. The perfect blend of sweet orange blossoms and acidity. Notes of citrus, orange blossoms, and white flowers. 
We harvest bitter oranges during the winter months, when all the citrus is abundant. Fresh fruit is like candy in the islands, so go get started creating your very own island cocktails, from Mai Tai's to Beachcombers. Alani is the Hawaiian word for orange, and will quickly become a "must have" for all your Tiki cocktail needs. From our 'ohana to yours, enjoy!
Offered only in 375 mL bottles. 
30% ABV/60 Proof 
Recipe Suggestions
Mai Tai
Beachcomber