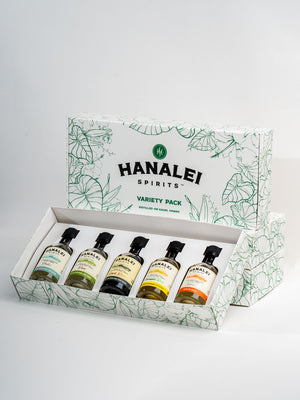 Hanalei Original Gift Pack (5 piece set)
GATHERED FROM THE LAND CRAFTED BY HAND
This collection of Hanalei Spirits includes five unique handcrafted bottles including our premium Hanalei Spirits Vodka, Hanalei Spirits Rum, Hanalei Spirits Sugarloaf Pineapple, Hanalei Spirits Dark Rum, and our delightful Hanalei Spirits Lilikoicello.  Taste the unique flavors of the Hawaiian Islands captured straight from our farm to bottle in these Kauai distilled spirits.
What's inside:
(1) 50 ML  Hanalei Spirits Vodka 40% ABV/80 Proof
(1) 50 ML Hanalei Spirits Rum  40% ABV/80 Proof
(1) 50 ML Dark Rum 40% ABV/80 Proof

(1) 50 ML Sugarloaf Pineapple Rum. 40% ABV/80 Proof
(1) 50 ML Lilikoicello 30% ABV/60 Proof
Our Hanalei Spirits Vodka is a smooth neutral spirit, made with sugar cane and the finest mineral-rich water in the world. Our Hanalei Spirits Rum is a light bodied white rum made with sugar cane that allows the local delicate fruit juices to shine. Our pure tropical rain collects around Mount Waialeale at the center of our island. Being over 5 million years old and one of the wettest and most majestic places on earth, it offers the perfect base to our spirits. Our Dark Rum gets its deep rich color from its time spent in new charred white oak barrels where it picks up hints of vanilla and a subtle chocolate finish. The pineapple has long since been an iconic symbol of Hawai'i since the 1900s. The industry has changed on the island of Kaua'i from big industrial canneries to small certified organic farms specializing in White Sugarloaf Pineapple. The drive for higher quality, seasonally fresh local ingredients helps us to please your palate, crafting our Sugarloaf Pineapple Rum. Our Lilikoicello is crafted from Passion fruit or as we say here in Hawaii, liliko'i.  It is widely considered one of the most delicious fruits in the world and has a tart, aromatic flavor. Each exotic liliko'i blossom is lovingly hand pollinated along the 15 ft sturdy wines. From the vine to the bottle, it is an owner's favorite. 
From our 'ohana to yours, Enjoy!